Best seven-seat electric cars to buy 2022
Looking for the best seven-seat electric cars to buy in 2022? You've come to the right place! In this blog post, we will discuss some of the best options on the market right now.
Electric cars are becoming more and more popular and for good reason! They are environmentally friendly, cost-effective, and stylish. We'll discuss a few different models that are sure to appeal to you. Keep reading to learn more!
Mercedes EQB
The new Mercedes EQB accompanies the EQV, EQA, EQC, and EQS in Mercedes' electric cars lineup. It is among the finest battery-powered machines the German manufacturer has to offer right now. 
The EQB seems to have all the upscale allure you'd want from a Mercedes, with a refined passenger space featuring a dual-screen infotainment system, a sleek and recognizable exterior design, double-glazed windows for increased sound muffling, and adequate performance for highway trips.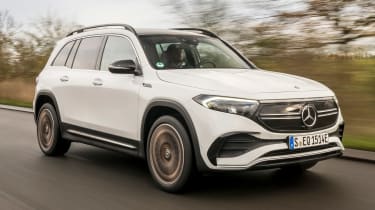 Citroen e-SpaceTourer/ Peugeot e-Traveller/ Vauxhall Vivaro-e Life
The SpaceTourer, Citroen's biggest MPV, is now only offered in electric mode as the e-SpaceTourer. It shares the same engine as the Vauxhall Corsa-e and Peugeot e-208, and is built on the Dispatch panel van which means it has a 50kWh Li-ion battery and a 134bhp electric motor. 
Its drive system in the superminis can go for over 200 miles. However, the larger e-SpaceTourer can for about 148 miles between fill-ups.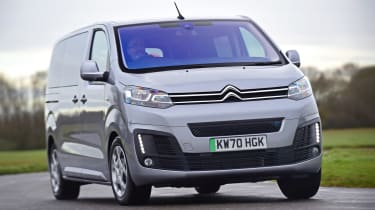 Tesla Model X
The Model X retains its unique design, with upward-opening 'falcon' doors. They are however not just for display, though; they're designed to make accessibility to the back seats simpler in crowded parking lots. 
A new 'Plaid' powertrain with a 0-62mph pace of 2.5 seconds has been claimed, making it the fastest SUV ever manufactured, whilst Plaid and Long Range variants provide over 300 miles of range.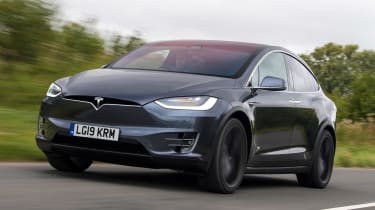 Mercedes EQV
The majority of vans with windows choose to embrace the hard plastics preferred for business vehicles but with the Mercedes EQV it's different. This is the new electrified V-Class, and it has a luxury cabin loaded with quality materials and high technology levels, as you'd anticipate from a Mercedes passenger car.
On paper, the engine looks good, with 201bhp as well as a range of almost 210 miles However, it is important to note that this will rapidly diminish if you spend lots of time on the road. Fortunately, there is fast charging, which provides an 80 percent charge in 45 minutes. On its most powerful level, brake regeneration also allows for one-pedal driving.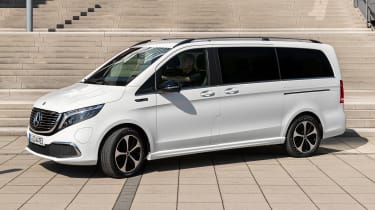 Peugeot e-Rifter/ Citroen e-Berlingo/ Vauxhall Combo-e Life
Peugeot, Citroen, and Vauxhall all have two van-based MPVs on the market, and the smaller ones are now electric cars as well.  There are three modes available: Normal, Eco, and Power. 
Citroen claims that the former lowers power to 80bhp and inhibits the air conditioning system that would save range, whereas the latter is best saved for heavy things. Charging is the same as it is for larger MPVs, thus which means that half an hour at a public fast charger will get you an 80 percent charge.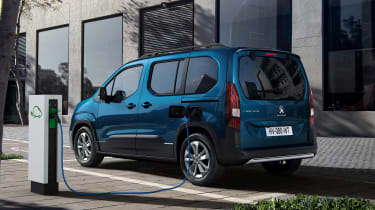 Nissan e-NV200 Combi
The Nissan e-NV200 Combi is an electric seven-seater built on the Nissan Leaf's foundations, yet it has the feel of an earlier model. It's not particularly fast (maximum speed is 76mph), and it only travels 124 miles before needing to be recharged. 
If you stay within city limits, you might be able to travel a little further; Nissan claims up to 187 miles is achievable here. Comfort is a bonus, but this people carrier is showing its age, particularly in comparison to the latest wave of electric cars.