The Volkswagen Beetle was once the car that sold more units than any other in the history of automobiles. Do you know which car pushed it from its perch? The Volkswagen Golf, of course. The Golf GTI is still available for individuals who want a car that is both practical and enjoyable to drive, and it will enter its eighth generation in 2022.
The wheelbase remains the same, but the general size increases significantly. It gets a revamp in terms of aesthetics while maintaining its original look and dimensions. The engine has a bump in power, and the suspension has been overhauled for improved handling. 
The cabin has been updated as well, but the basic dials and buttons that were previously available have been substituted with an inconvenient system that demands you to tap or swipe for practically everything.
It's available in three trim levels, beginning from $34,995 for the Autobahn, $31,495 for the Golf GTI, and $38,995 for the Performance. All of these prices are for a six-speed manual transmission; add $1,400 for an automated seven-speed direct-shift gearbox (DSG).
The moniker "Performance" means nothing special under the hood. A turbocharged 2.0L four-cylinder engine with 273 lb-ft of torque and 241 horsepower is standard on all versions. However, the top specification incorporates dynamic chassis management with self-adjusting dampers, as well as summer performance tires.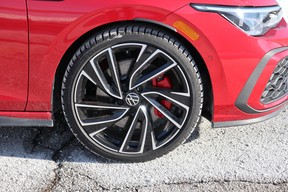 Driving this vehicle is a blast. The increase in power isn't great — 13 more horsepower and 15 more lb-ft of torque – but it seems a lot faster than it was before. The direct-shift transmission chooses a gear and then prepares the next one in readiness for when it's required, and the shifts are smooth and quick. 
The steering is also silky smooth, quick to respond, and perfectly weighted. Front-wheel drive is standard on all Golf GTI variants, and an electrically operated limited-slip front differential aids control in corners and curves. The Performance's chassis control gives a pleasant and balanced ride over less-than-ideal roads, and the brakes are well-modulated and solid.
All trims are adequately equipped, but the performance incorporates heated and ventilated front seats, a heated steering wheel, and heated rear seats. It also includes a head-up display, Harmon Kardon stereo, automated high-beam headlamps, power driver's seat with memory, adaptive cruise control with lane centering, leather upholstery, and 19-inch wheels.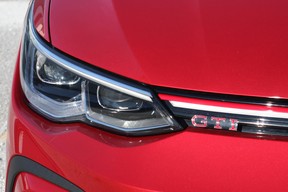 The headlights switch is incredibly complex. At the end of the turn signal stalk, many automakers provide an easy-to-use switch or knob. On the left-hand side of the dashboard, there is yet another piece of gleaming black plastic whereby you tap-tap-tap to select between headlights, parking lights, or automated operation. The front and rear defrosters are likewise tap-spots below that, rather than being in the middle stack with the other temperature controls. A passenger can easily and readily reach them if the window gets fogged up. 
The GTI is a fantastic compact machine. It's not as powerful as its 315-horsepower Golf R brother or as expensive as the R's $45,995 base price — but it's a fantastic mix of sporty agility and daily commute driving dynamics. Although the Golf is no longer available, the hot-hatch version is still available.