You may be aware that the batteries in electric cars can also be used for charging. That is the idea behind Hotel Hyundai, a pop-up hotel in which a Hyundai Ioniq 5 provides all the electrical power needed for a luxurious cabin using its vehicle-to-load (V2L) feature.
The hotel has a restaurant featuring a bar, a guest suite, and even a theater. It is situated in Essex, England, about an hour outside central London. V2L, or vehicle-to-home, is different from V2H in that it doesn't need a bidirectional charger to function, making this idea much less dependent on specialized hardware. All it requires is a car adapter.
The inspiration for the pop-up hotel came from Hyundai's own research, which revealed that 25% of survey participants are selecting staycations rather than international flights to lessen their own carbon footprints. 46% of the participants stated that the environment and sustainability are more essential than they were just five years ago when picking hotels.
Everything inside the opulent cabin, constructed by Colemans Farm, is powered by V2L, right down to the espresso maker in the tiny bar and the projector in the theater. A maximum of 3.6 kW of AC power (230V/50Hz) is provided by the Ioniq 5. (15 amps).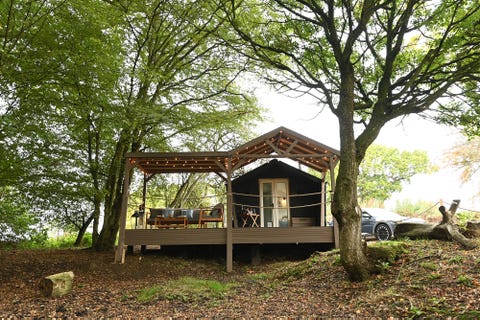 From October 19 to November 5, the hotel will be open each night for 14 nights. According to Ashley Andrew, the managing director of Hyundai Motor in the United Kingdom, the Ioniq 5 can power Hotel Hyundai through its V2L feature. This allows you to plug in a domestic appliance into a socket provided by the car's adapter. The entire experience proves how useful this cutting-edge technology is, and we hope the idea encourages more people to live off the grid. 
Whenever owners of the Ford F-150 Lightning were able to power necessary appliances in their homes during protracted power outages, V2L technology garnered a welcome introduction in the United States. But beyond the emergencies, V2L technology in vehicles like the Kia EV6 and the Hyundai Ioniq 5 promises to redefine camping. Hyundai's pop-up hotel serves as an appropriate example of environmentally friendly resort lodging.