A Mercedes is a luxury car that you buy for yourself as a reward for hard work and good personal finance. Customers that purchase Mercedes cars are seeking a premium vehicle with style. They provide a stable, smooth ride, a great measure of performance, and a comprehensive set of features.
Mercedes-AMG has revealed the front end of a fresh C-class variation, though it is unclear whether this is a teaser of the C63 or the C43 or C63. Whereas the previous C43 had a still-powerful 385-hp twin-turbo 3.0-liter V-6 and the C63 had a 503-horsepower twin-turbo 4.0-liter V-8 engine, we've known all along that the new C63s will feature a hybridized inline-four system. 
The teaser displays a tiny piece of the front fascia, with the C-class donning the "Panamericana" grille with vertical slats seen on all recent AMG models. The bottom air intakes appear to be identical to those on the ordinary C300, leading us to believe this is the C43 rather than the top-tier C63.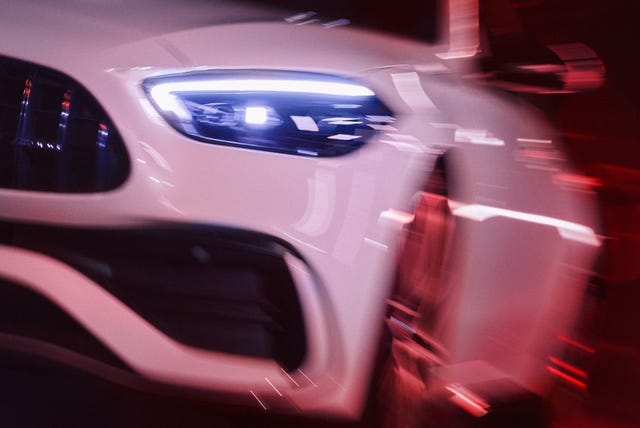 Nonetheless, without a V-8, the C63 may not have considerably different cooling requirements than the other four-cylinder variants. The C43 and C63 will both be powered by a hybridized, turbocharged 2.0-liter inline-four. Despite having an engine that is smaller, the C63 is estimated to produce more than 500 horsepower. 
Mercedes has already eked out 416 horsepower from the four-cylinder engine in the CLA45 S, which isn't available in the United States. The C43 will not have power comparable to the C63, but it will not be a surprise if it got close to 400 hp. The Mercedes teaser did not include a release date, but we anticipate learning more about the upcoming AMG C-class eventually.