Nissan's ambitions for a solid-state battery have made a tremendous leap forward by setting up a prototype facility in Japan. Situated in Kanagawa Prefecture within the Nissan Research Center, the facility's purpose is to produce solid-state cells.
This plant serves as an important step in the company's plan to create an electric car that will be powered by solid-state batteries by the year 2028. Furthermore, to help in realizing this goal, a pilot production line will be built at Nissan's Yokohama plant in 2024.
Engineers will be employed to study the design and manufacturing processes as well as the materials used in this production line to reduce the cost of solid-state batteries to $75 per kWh in 2028. This number will eventually be reduced to $65 as the company tries to create electric vehicles at a cost that is similar to their internal combustion counterparts.
Solid-state batteries are the next innovative step in EV technology because they use a thin solid electrolyte that is typically made from solid or ceramic polymers. This is a change from the liquid-based electrolyte that is used in normal EV batteries.
Solid-state cells are lighter than lithium-ion battery cells and are faster to charge. Additionally, they are likely to be cheaper due to the need for cheaper raw materials to produce them. However, introducing them into the market will be a challenge that influenced Nissan's late target of 2028. Honda, on the other hand, plans to release a solid-state powered EV into the market in the second half of the 2020s.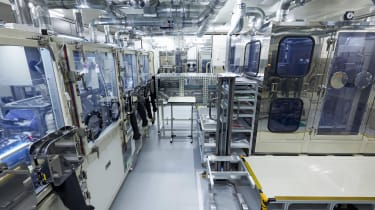 Other companies are even looking outside their organizations to do research on solid-state cells. Stellantis, Hyundai, Mercedes-Benz and Kia have invested in US-based Factorial Energy and Mercedes even hopes to release a few EVs in the next 5 years. Stellantis plans to release solid-state batteries by 2026 while Kia and Hyundai have shied away from giving a target publicly.
Kunio Nakaguro, R&D executive vice president says that Nissan is leading in electrification technology through different R&D activities such as molecular-level battery research and the development of high-performance EVs. He adds that Nissan even plans to come up EVs that could be used as storage batteries in city development.
The knowledge that Nissan has gained from its endeavors so far allows them to grow important elemental technologies that enable the development of purely solid-state batteries. Nakaguro finalizes by saying that the company's manufacturing and R&D divisions will continue working together to hasten the application of all-solid-state batteries.