When it was at its peak, the Toyota pickup truck offered stiff competition to its American opponents. The truck changed over time, first becoming the Hilux as the pickup's popularity increased. The Toyota truck meant for the American market would then depart from its Hilux roots into Tacoma. In the end, despite having similar beginnings, the Tacoma and the Hilux, a model sold globally, were two very distinct cars. 
In comparison to the simple, functional trucks that were once used on farms and construction sites to lift heavy loads and transit animals, contemporary trucks have evolved a great deal. These days, newer pickup trucks are outfitted with a bevy of high-tech amenities and almost attract an entirely different demographic.
Because of these extras and high-tech features, the Toyota Hilux would be disliked in America. The Toyota Hilux has largely stayed the same, unlike most modern trucks that have deviated from what made the pickup truck one of the nation's most popular cars. The vehicle has undoubtedly been improved over the years with new motor options, updated interiors, and suspension adjustments, but the spartan appearance has not changed.
The Hilux has really stayed true to its origins
In South Africa, where the Hilux has some of the best equipment in comparison to regions like the United Kingdom, the top-tier Toyota Hilux 2.8 GD6 4X4 LEGEND RS AT costs $52,883. It is powered by a 2.8-liter turbo-diesel engine that makes a meager 204 horsepower.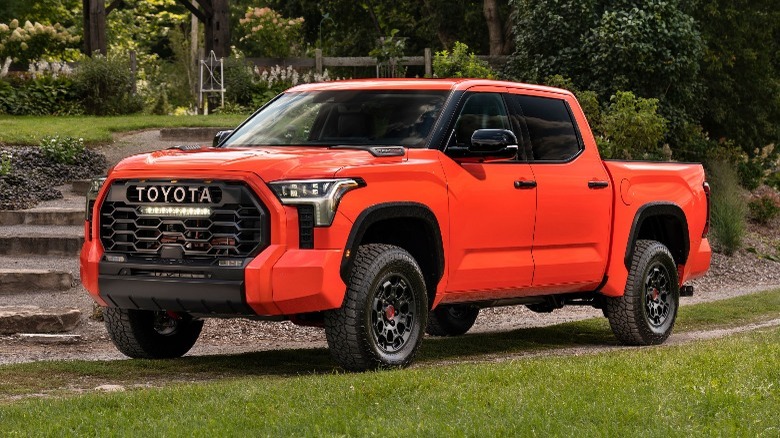 That may not be much power, but what's more worrisome is that the most opulent features that come as standard equipment in the car are a reverse camera, an 8-inch multimedia screen, heated seats, cruise control, and park distance control sensors. There are hardly any optional extras at all. In contrast, based on the engine setup, the Ford F-150 Raptor can produce up to 450 horsepower.
A Lane-Keeping System, Pre-Collision Braking, and adjustable Onboard Scales are just a few of the high-tech extras found on the F-150 that are not present on the Hilux. Reviews claim that the Hilux is also somewhat compact, has a small bed compared to American rivals, and has a comparatively tiny interior space. 
Ultimately, the more basic Hilux is made for a different demographic, with a heavy emphasis on the robustness and off-road reliability that helped it become a huge favorite. However, the American auto industry necessitates a certain level of luxury, so Toyota instead creates models like the Tundra and the Tacoma.